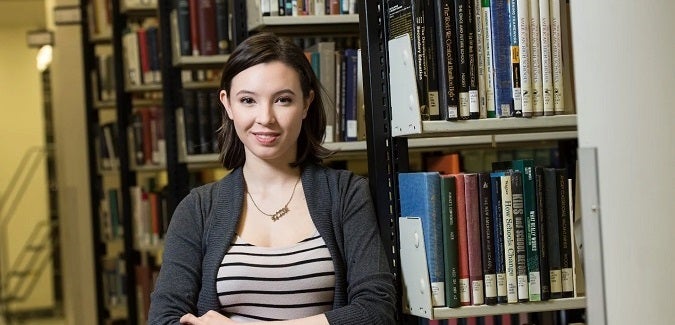 "I started studying economics because I believe that there is a gap in research on the economics of beauty, specifically on how it influences the labor market. Driven by my own personal curiosity, I wanted to identify whether research and evidence already existed on this topic, and what still needs to be determined. Dr. Werner Troesken graciously met with me and listened to my spiel about beauty economics being an under-researched field. He pointed me to studies that pertained to my interest and my research began. With Dr. Troesken as my research mentor, I completed a research paper I am proud of and will hopefully use as a springboard for other research in the future."
- Gabrielle Simon (Economics major, Chemistry minor)
View Gabrielle's full story Paths to Research
While all majors in the liberal arts aspire to promote critical thinking, two features distinguish economics.

First, the economics major fosters a logical and ordered way of thinking that has broad applications. Although economics has a core focus on issues such as market behavior, inequality, and unemployment, it also helps us understand a wide range of social and political phenomena, including crime, the environment, health, marriage and fertility, and voting.

Second, students majoring in economics develop concrete skills that are both marketable and useful in a variety of disciplinary settings. These skills include deductive reasoning, decision-making techniques, statistical and quantitative analysis, and modeling principles. As a result, a major in economics provides a great foundation for careers in business and government service at all levels, and prepares students for graduate and professional school in areas such as law, public policy, business administration, health management, hospital administration, urban affairs, economics and political science.

Undergraduates majoring in our department have many opportunities to interact with our award-winning faculty—in classes, through advising, and through research projects. We also connect students to our alumni for career advice and networking.

In their classes, our faculty use a variety of active-learning teaching methods:
Students participate in classroom economic experiments.
Students get hands-on practice analyzing real-world economic data.
Students debate current economic issues.
Students use case studies to apply the economic concepts they learn to real-world situations.
Every economics major takes a capstone seminar where 15-16 students explore a topic in depth with a faculty member.
Advising
The Economics Department has an award-winning advising team. Kevin Shaver, David Hewitt, Jane Caldwell and Katherine Wolfe combine their talents to ensure each Economics major gets advice about their academic program, their outside-the-classroom experiences, and their preparation for entering the job market or graduate school. Students meet with an advisor at least once per term to discuss their academic progress and goals. Progress toward these individualized objectives is monitored and advice is given to maximize the student's success at Pitt and beyond.

Meet Our Award-Winning Academic Advisors
Research Opportunity
Students have the opportunity to work side by side with faculty on their research projects, or to undertake their own research with a faculty mentor. 
Even before they become Economics majors, students can work with Economics faculty on research projects through the "First Experiences in Research" program.
Students may work on independent study research projects for academic credit during any semester. Students work with a faculty mentor to develop their own project and see it through to completion.
During the summer, the Economics Department offers paid research experiences funded by our generous donors.
But that's not all. Our faculty members, advisors, and alumni mentors are committed to ensure that our undergraduate majors are well prepared to succeed in the classroom and beyond.
Economics majors take a 1 credit professional development course as soon as they declare their major. The course explores careers related to Economics, connect students to experiential learning opportunities such as internships and study abroad, presents networking and interviewing skills, graduate school options, helps students polish their resumes and facilitates meetings with recruiters.
Throughout the school year, students have a chance to meet informally with Pitt Economics graduates in the "Pizza and Professional" series. Our alumni from diverse fields in the business, government, and non-profit sectors talk about their careers and offer career advice.
Our Economics alumni LinkedIn network connects students to over 2,000 Pitt Econ graduates who can give students the inside scoop on their companies and careers.
2023 Study Abroad Program
The Economics Department is excited to announce a study abroad opportunity designed for students who are interested in the contemporary economic and political issues of the Czech Republic and Poland.  The course will be conducted in Prague, capital city of the Czech Republic, in May 2023.  The course syllabus is available here.

For more information about our department, or to schedule a visit or tour, please contact the Dietrich School's recruitment team at artsci@pitt.edu. 
If you are interested in graduate programs at the Dietrich School, please email asgrad@pitt.edu for more information.